Sorbitan Monooleate

SMO is a low HLB surfactant suggested for use as a w/o emulsifier or as an o/w emulsifier for use in cosmetic formulations, oil field chemicals, plastics, household products, coatings and textiles. The liquid sorbitan ester explosive grade functions as a low HLB nonionic emulsifier. This product is well suited for a broad number of applications including emulsifier in explosives.
We are manufacturer, exporter, and supplier from Central India offering SorbitanMonooleate(SMO). It is used as a wetting agent, coupling agent and dispersing agent in various products. In cosmetics, pharmaceutical creams, and various other personal care products, it is used as friction modifier and emulsifier. This clear viscous oily liquid is used for ethoxilation. We at Univenture manufacture SMO as per the client requirement as it is used in various applications like – Pharmaceuticals, Emulsion Polymerization, Foaming Agent in Beverage Mixes, Bakery Food, Pet Food, Cosmetics, Agrochemical, Leather Chemicals, Textile Auxiliaries and in emulsion explosives.
CAS No :1338-43-8
Synonyms : SMO, Span 80, SorbitanOleate
Molecular formula :  C24H44O6
Molecular Structure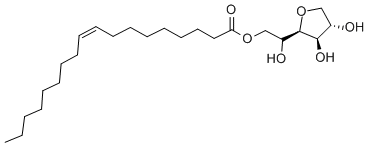 Dry yeast: Acts as the carrier of active yeast. Promotes dry yeast shape and maintains the bio-activity after hydration.
Margarine: Maintains fine and stable water-oil dispersion, Improves plasticity, Prevents splashing during frying.
Shortening: Adjusts oil crystal, Improves stability and whipping strength
Whipping cream: shortens whipping time, Improves foam volume and structure, Creates a nice and stiff foams.
Coffee-mate: Gives a more uniform fat globule size distribution resulting in improved whitening effect and dissolves in water well.
Cake emulsifier: Enlarges cake volume, Improves cake texture and paste stability, Prolongs shelf life.
Cake: Enlarges cake volume, Improves cake texture, Prolongs shelf life.
Ice cream: Promotes emulsifying if dairy fat, Prevents thick ice crystal, Improves mouth feel and shape retention. Increases bulging rate
Confectionary and chocolate: Improves oils and fat dispersion, Decreases syrup viscosity and adjusts crystallization of confectionaries.
Used as W/O emulsion explosive, preparation agent of textile, lubricant and softening agent of textile and leather.
.    
Appreance : Viscous liquid having light yellow to dark amber colour
Density : 0.986 g/cc at 25 deg.C.
Flash point   :   > 110 deg.C.
Acid value  :  8 max
Hydroxyl Value :  190 – 210
Iodine Value : 62 – 76
Saponification value : 145 – 160
Heavy metals : 10 ppm max
HLB Value  :  4.3
Moisture:1.0 % max
Viscosity : 900 – 1200 cps