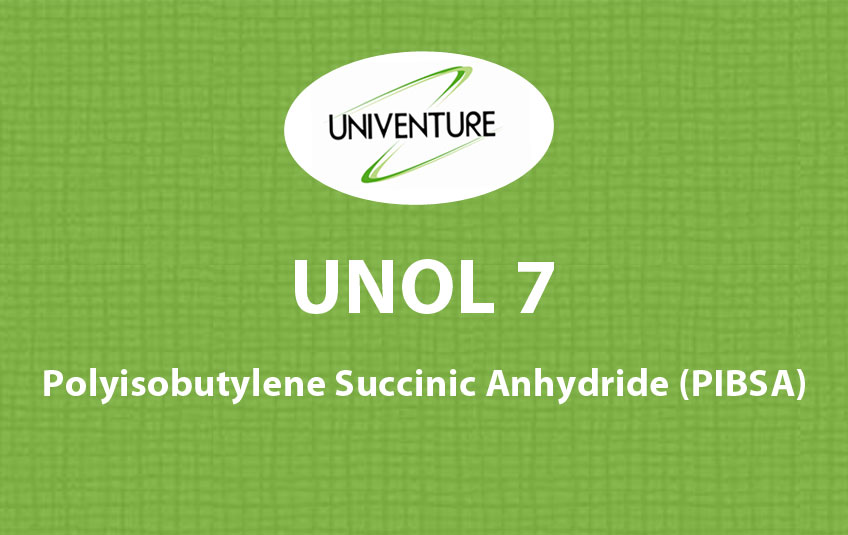 Download brochure | MSDS-UNOL7
DESCRIPTION:
Polyisobutylene Succinic Anhydride (PIBSA) serves as a chemical intermediate which helps in dispersion of hydrocarbon products. It is used as an additive for bio-fuels, emulsion explosives, lubricants, oil drilling, water treatment & coatings. It is derived from different grades of polyisobutylene by reacting it with maleic anhydride. We produce PIBSA of various grades marketed as UNOL-7.
GRADES: 1. UNOL 7095 2. UNOL 7130 3. UNOL 7170 4. UNOL 7095-B
APPLICATION:
• UNOL-7 is an ash less dispersant used for lubricant formulation. This aids in controlling deposits, sludge formation and prevents oil thickening.
• UNOL-7 based dispersants can help improve fuel economy and decrease frequency of oil drains, thereby offering environmental benefits.
• UNOL-7 serves as an intermediate in the manufacturing process of different grades of polymeric emulsifiers.
TAILORED TO CUSTOMER NEEDS:
• Ready to use as fuel or emulsifier that may be diluted at users' site.
• Can supply UNOL-7 that meets the range of performance equipments.
• UNOL-7 is available as either bulk or cartridge emulsion grade. This manages the sensitivity & shelf life of emulsion explosives.
TECHNICAL SPECIFICATION:
Appearance: Amber colored liquid
Acid Value: 40-55 mg KOH/gm
SAP Value: 100 (+/- 6) mg KOH/gm
Specific Gravity: 0.9 – 0.95
Suggested Storage (max temperature): 70 0 C
PACKAGING:
Available in 190 liter HDPE drums, totes or bulk