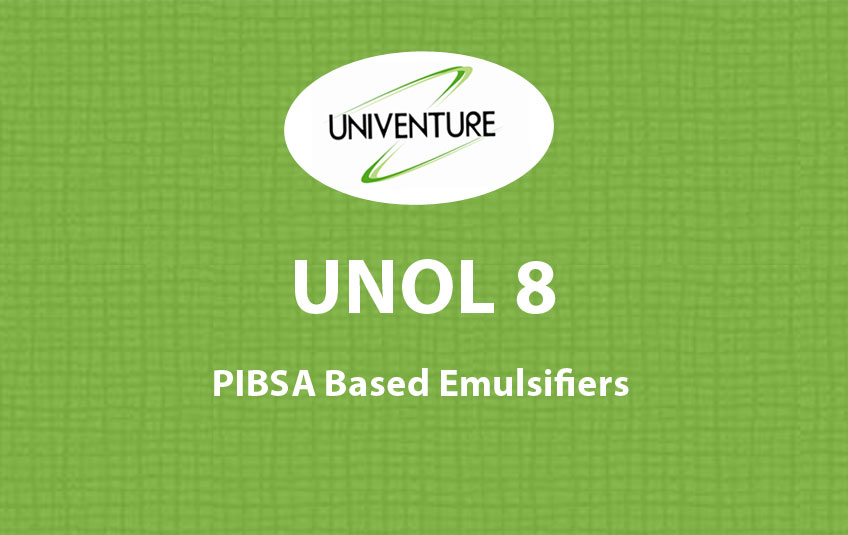 Download Brochure | MSDS-UNOL8
DESCRIPTION:
UNOL-8 is our trade name for PIBSA based emulsifiers. Dispersants derived from PIBSA like UNOL-8 helps in creating a stable ammonium nitrate 'water in oil' emulsion that is suitable in manufacturing both packaged and bulk emulsion explosives. It helps in making stable emulsion explosives over wide range of environmental condition and in turn increases shelf life.it is also used in motor oils. They help to disperse carbon soot and prevent slugging. It can also be added to diesel fuel which helps in removing engine deposits.
GRADES:
1. UNOL 8901 2. UNOL 8902 3. UNOL 8903
APPLICATION:
• UNOL-8 is used as an emulsifier in manufacturing emulsion explosives. This helps improve the shelf life & increase the sensitivity of cartridge emulsion.
• UNOL-8 is used as a fuel additive which helps in improving the fuel economy. It also offers environmental benefits by decreasing the frequency of oil drains.
• UNOL-8 is used as a lubricant in sheet metal works & it helps to increase tool life.
TAILORED TO CUSTOMER NEEDS:
• Ready to use as fuel or emulsifier that may be diluted at users' site.
• Manufactured as per needs to meet the range of performance equipments.
TECHNICAL SPECIFICATION:
Appearance: Amber to Dark Brown colored liquid
Acid Value: 18 – 25 mg KOH/gm
Viscosity: 1200 +/- 200 Cps
SAP Value: 40-55 mg KOH/gm
Specific Gravity: 0.9 – 0.95
Suggested Storage (max temperature): 70 0 Celsius
PACKAGING:
Available in 225 kg HDPE drums, totes or bulk